Wilbourn Lab (WILD) prioritizes undergraduate research opportunities
Friday, January 29, 2021
When you run scientific studies that include infants, something will always go wrong. Families will be late or sick. The babies won't behave. Or maybe, as happened at the Wilbourn Infant Laboratory at Duke (WILD), you'll have to make a last-minute run to the store to buy a big pack of toothbrushes.
In an interactive study, 20-month-old infants played with a variety of objects—things like a fake cookie and a toy apple, all of which the researchers had ensured were safe for infants. "We had it down," said Makeba Wilbourn, the lab's director and an associate professor of the practice of psychology and neuroscience. But there was also a toothbrush.
"What does the kid do? Put the toothbrush right in its mouth," Wilbourn said. "Of course they did! But we only had one toothbrush. It never dawned on us."
It was a small problem, but Wilbourn uses it to teach a big lesson: conducting research means responding to myriad minor crises by drawing on a wide variety of specialized forms of knowledge (including what infants will do when they find something as novel and exciting as a toothbrush). That's why Wilbourn and others across Duke make it a priority to create opportunities for undergraduate students to participate in real research projects. It leads to learnings that can't be replicated in the classroom.
"There's no cheat sheet," Willbourn said. "There's no magic formula. You just have to buckle up and go through it."
Finding a Pack in the WILD
Each semester, Wilbourn typically has between 10 and 15 undergraduates working in her lab. Three or four each year use WILD as the home for the independent research projects they need to graduate with distinction, and still more pass their findings onto future generations of undergraduates who spin them into new research.
All of this works, Wilbourn stresses, because WILD fosters an intellectual community. "We give students agency with scaffolding," she said. "You give them agency, but you also create an environment that shows we're all in this to together. It's not my project. It's not the student's project. It's our project. We're all invested in it."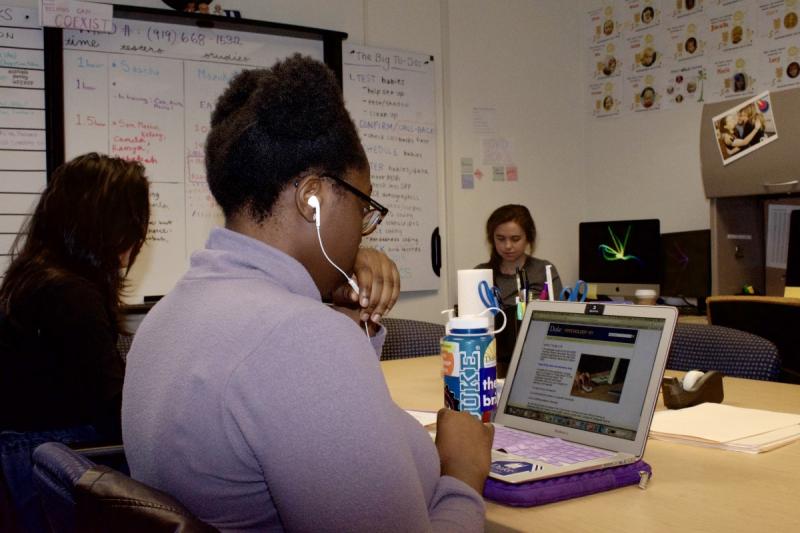 Undergraduates Anita Izokun, Alex Chan, and Cate Hurley (clockwise, from center) do computer work at WILD.
"Not only have I been able to do my own honors thesis research project, but more importantly I have found an amazing community of strong, determined, intelligent women to surround myself with," said Alexandra Chan, a current undergraduate. "And I think that's been a defining part of my Duke experience."
These networks are especially helpful for first-generation and underrepresented students, Willbourn said. They receive more personal letters of recommendation and learn what to look for in graduate programs. To ensure those students can find out about WILD and other opportunities, Willbourn has partnered with professors Sarah Gaither and Greg Samanez-Larkin to run "Lifespan Approaches to Diverse Psychological Science." The National Science Foundation–funded program that offers paid research experiences to students from groups underrepresented in science, first-generation college students, and students who have limited access to research opportunities or attend non-research-intensive universities, historically Black colleges and universities, Hispanic-serving institutions, or tribal colleges and universities.
The community keeps giving back to WILD, too. Some students who worked in the lab as undergraduates four years ago are now PhD candidates, offering advice to current students. Other alumni have even sent their master's thesis to WILD student groups for feedback.
And students also learn the soft skills necessary for success in many fields. "We have an incredible student population," Wilbourn said. "These kids are bright and motivated and determined, but they are often afraid of making mistakes. The reality is, we grow the most and we learn the most when things don't go the way we planned." The research experience is an unparalleled way to figure out how to make the most of those mistakes.
The full story, published November 2, 2020 by Matt Hartman, can be found here: Undergraduates Are Doing Real Research in Trinity College, And Everyone Benefits